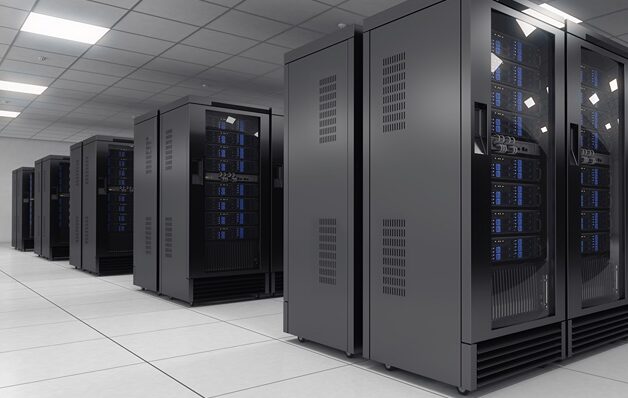 A data center is an area where companies house their servers containing all of their essential information. The security of these servers, which contain all of the company's data, is critical to ensure success. Companies must take multiple security measures to guarantee maximum protection and prevent hacking and theft from occurring. The first of these measures is to ensure that servers are free from viruses and any other malicious software. Guards at the doors should always check for valid company identification before allowing anyone entrance into the building. A data center security policy outlines all necessary policies and procedures for employees and guards to ensure success. It also prevents attacks, theft, vandalism, and viruses from harming a company's valuable information by outlining what can and cannot be done. This article will answer the most common questions about data center security policies and their implementation.
What is the data center security policy?
A data center security policy is a written document containing specific instructions that dictate how company data and network devices are handled. It includes safety information such as how often backups need to take place and who exactly can access what kinds of information. A data center security policy also needs to have specific guidelines for the employees working there. These policies should include information about what has to happen before entering the building, what steps must be taken while inside, and how people are expected to act once they leave the building. It is also essential to include what will happen if a security breach occurs and how your employees handle it.
Is there a standard data center security policy?
By definition, every company's data center is different because of its different information requirements. However, each company should have specific procedures to guarantee protection from hackers and unauthorized personnel that may attempt to breach the system. All policies and procedures should be outlined in the company's data center security policy.
What should the data center security policy include?
The data center security policy should contain information on who is responsible for implementing and enforcing the procedures and how often employees need to practice making backups. The document should also state what types of information or equipment can be stored in the data center and what types are prohibited from being there. For example, some companies do not allow personal laptops or mobile devices in their data centers because they pose a security risk. The policy should also state how employees should address any suspicions about a specific individual attempting to access restricted information. Finally, the document should include an emergency contact list and plans for what steps employees need to take if there is a service disruption or the data center becomes inaccessible.
Who needs to be involved in creating the data center security policy?
The information technology department should be heavily involved in any process of creating a new security policy. After all, they are typically responsible for managing that type of company resource. Legal counsel may also need to be consulted for advice on how best to define the role of different employees and departments. Employees who work in a data center may also want to say what they feel is important for this policy to include.
What are some potential security risks involved with having remote access?
When employees use remote access from their computers, tablets, or mobile devices, there is an increased risk of inadvertently sending out sensitive information to an unauthorized destination. That could happen if there is a virus on the company-owned device or an outside party hacks it.
What happens if there is a data center failure or a disaster?
When a company cannot recover data center information or equipment, employees need to create a plan of action. It can include re-creating documents that were lost or creating workarounds for specific processes. Companies should implement a security policy within their data centers to reduce the risk of losing critical business data and other resources resulting from the failure.
How often do data center backups need to occur?
The frequency at which backup procedures need to take place depends upon how time-sensitive and mission-critical the data located in the center is. Due to this, different companies may need to follow different procedures. For example, if the employees only need access one day out of every month, they may only have to do a backup once a month. However, if their job entails using certain information daily and they must have access to it 24 hours a day, they may need to back up their data every 16-24 hours.
What are some things that an individual can do if suspicious that someone is trying to access their information?
Suppose employees suspect that someone is attempting to use unauthorized resources or activities to view sensitive company information. In that case, there are several things that they can do to protect their data and also bring attention to the problem as soon as possible. The first thing that they should do is determine if there has been any actual information leakage. The next thing would be to look at who has accessed their files and what those employees did with them. If a business's security policy does not allow for information to be shared outside of the company, this could be a sign of a problem. It's also essential to find out what exactly they've had access to and whether or not anyone else has accessed their data.
To whom should this document be distributed?
The distribution of this document should include those who will have some regular interaction with the data center. That could include managers, employees who work in the data center, and anyone else using it regularly. It's also advisable to send it through email to make the chain of distribution easier to track.
How does this policy impact data center security?
The data center security policy, when properly enforced, helps to protect the company's most valuable assets. It allows employees to work in peace, knowing that they are protected from outside threats while also enjoying flexibility within their work environment. At the same time, it also protects against internal theft and misuse. This policy is one of the most important ways a company can defend itself against data loss and resources.
What are some elements of an exemplary data center security policy?
A good data center security policy should clearly outline the various roles of each department and what types of information they are responsible for. The document should also include an emergency contact list and plans for what steps employees need to take if something goes wrong with the data center or if it becomes inaccessible. It's important not to include too many strict rules because employees may become discouraged and disengaged. The key is to strike a balance between security and usability within the data center so that employees can feel free to use the resources as they need, but without compromising sensitive information in any way.
Conclusion
Data centers house the data for organizations. The data center is often considered "the most valuable piece of equipment" an organization owns in business. Due to this importance, companies should take numerous security measures to guarantee that the data center is safeguarded from threats that could damage or steal private company information. A data center security policy is the final touch that ensures every measure taken to protect a data center is completed and enforced. This policy outlines all necessary processes and procedures for employees and guards to follow to ensure success. A robust data center security policy will prevent attacks, theft, vandalism, and viruses from harming a company's valuable information. Contact us today to learn more about our security and compliance services!