Managed Security for Small Businesses
GhostWatch is the leading managed security provider trusted by businesses worldwide. With an advanced array of tools, features, and our expert cybersecurity analysts, GhostWatch keeps your data secure from hackers, cybercriminals, and other malicious actors.
Ready to learn about process, timeline, and costs? Reach out below to get started
Managed Security for Small Businesses
Fighting cybercrime requires experience, expertise and the right tools. That's why more businesses rely on GhostWatch. We leverage industry-leading years of experience along with our exclusive tools and features to help you succeed in this digital threat environment.
Ready to learn about process, timeline, and costs? Reach out below to get started
Trusted by Leading Brands
GhostWatch is an all-in-one managed security solution. We secure and monitor your entire technology stack from end-to-end
GhostWatch has you covered with our state-of-the-art cybersecurity solutions, including 24/7 threat monitoring
and proactive IT security services.
GhostWatch monitors all of your tech stack from our platform. Advanced automation enables us to orchestrate response actions when threats are detected, greatly simplifying and accelerating the threat detection and incident response processes.
Discover
• Network asset discovery
• Software and services discovery
• AWS, Azure, Google Cloud asset discovery


Analyze
• SIEM event correlation
• User activity monitoring
• Online searchable events



Detect
• Cloud intrusion detection (AWS, Azure, GCP)
• Network intrusion detection (NIDS)
• Host intrusion detection (HIDS)
• Endpoint Detection and Response (EDR)

Respond
• Forensics querying
• Automate and orchestrate response
• Notifications and ticketing


Assess
• Vulnerability scanning
• Cloud infrastructure assessment
• User and asset configuration
• Dark web monitoring


Report
• Flexible compliance reporting
• Flexible event reporting



Why Choose GhostWatch for Small Businesses?
Small business networks are at-risk to cyber threats. Traditional defenses don't always work to protect sensitive data from hacking, advanced malware or ransomware attacks. Stay secure and let GhostWatch solve your problems with state-of-the-art tools, transparency and accountability.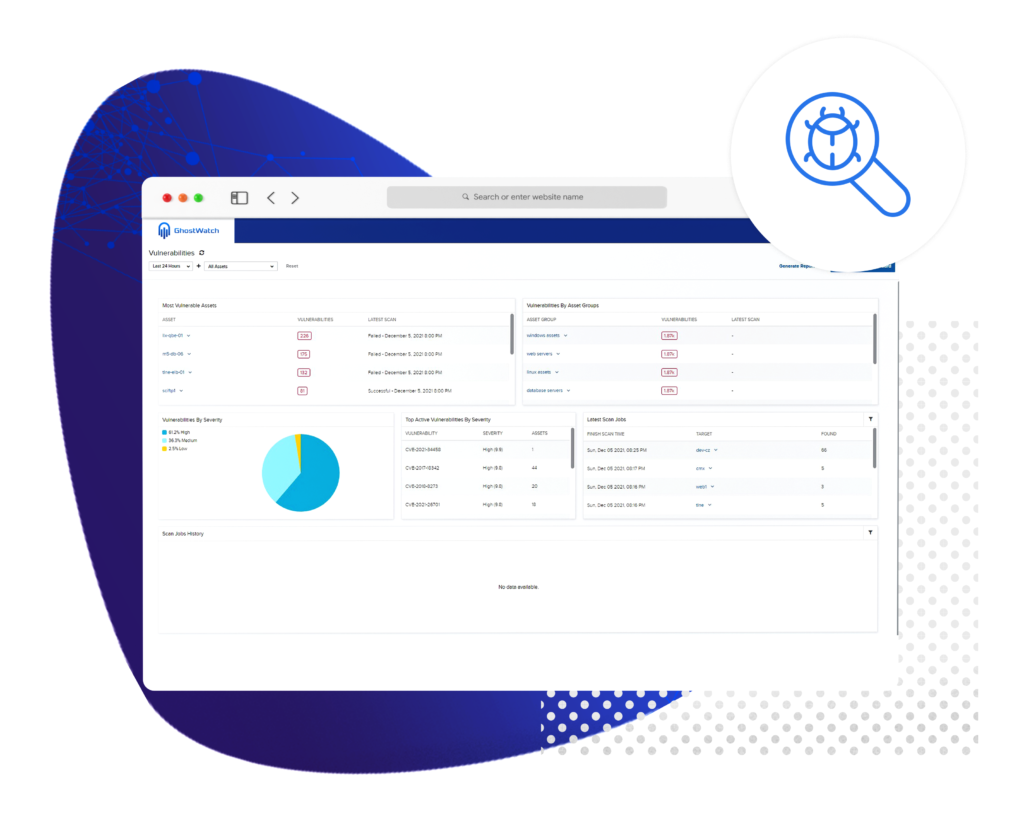 GhostWatch facilitates compliance with many common regulatory compliance requirements including SOC, PCI DSS, ISO 27001, HIPAA, CMMC, NIST 800-171, CSA STAR, GDPR and HITRUST.