Tomorrow's technology for today's world
GhostWatch analyzes and detects vulnerabilities in critical assets and assigns a risk factor to each vulnerability corresponding with the Common Vulnerability Scoring System.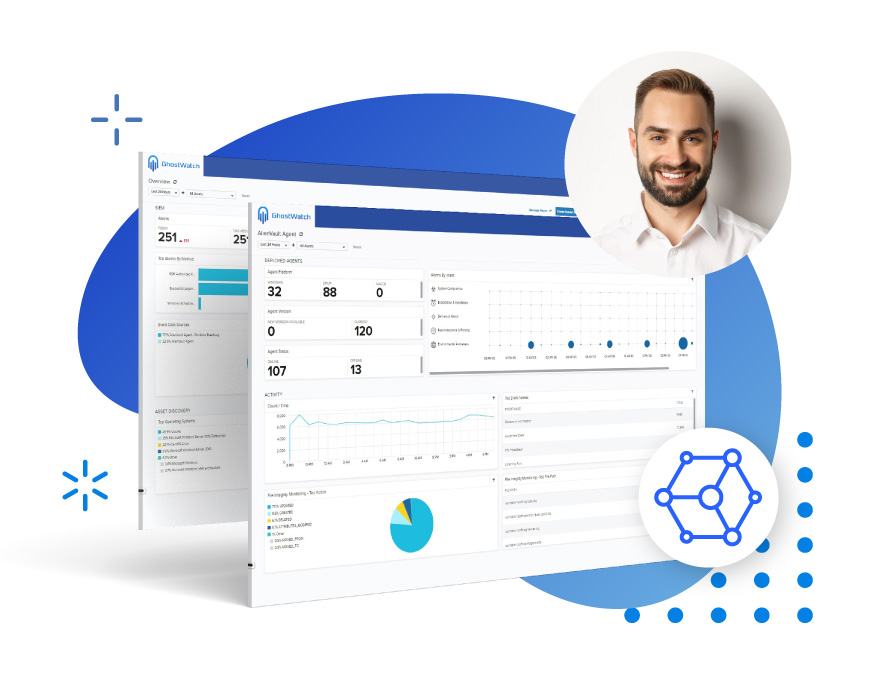 GhostWatch supports public cloud deployments including AWS, Microsoft Azure, and Google Cloud.
On-premises infrastructure is supported through GhostWatch's integrated hardware appliances. • AWS API asset discovery
• CloudTrail monitoring and alerting
• Amazon S3 access log monitoring and alerting
• ELB access log monitoring and alerting
• AWS infrastructure assessment
• NIDS packet inspection

• Azure API asset discovery
• Azure REST API monitoring and alerting
• Azure infrastructure assessment
• Azure security alerts
• Azure Microsoft Windows log locations

• GCP API asset discovery
• Cloud Pub/Sub monitoring and alerting
• Audit logs
• Stackdriver audit logs
The GhostWatch dashboard provides complete visibility of threats, incidents, response, and compliance management.
SECURITY EVENT MANAGEMENT
Monitoring every security event and staying on top of what's important
SIEM / Event correlation

Vulnerability assessments

Intrusion detection
 Linking every asset, vulnerability, intrusion, and remediation
NetFlow monitoring
Actionable and relevant threat intelligence
Real-time view of emerging global threats
Security analysts have all the puzzle pieces in a single view
+4,500 correlation directives and growing every day
Continuous real-time updates 24/7
Global threat intelligence
Our platform synchronizes threat detection, incident response, and threat management for rapid remediation
Advanced Endpoint
Threat Detection
Advanced Endpoint
Threat Prevention
Advanced Remediation
Management
GhostWatch detects vulnerabilities in critical assets and assigns a risk factor to each vulnerability corresponding with the Common Vulnerability Scoring System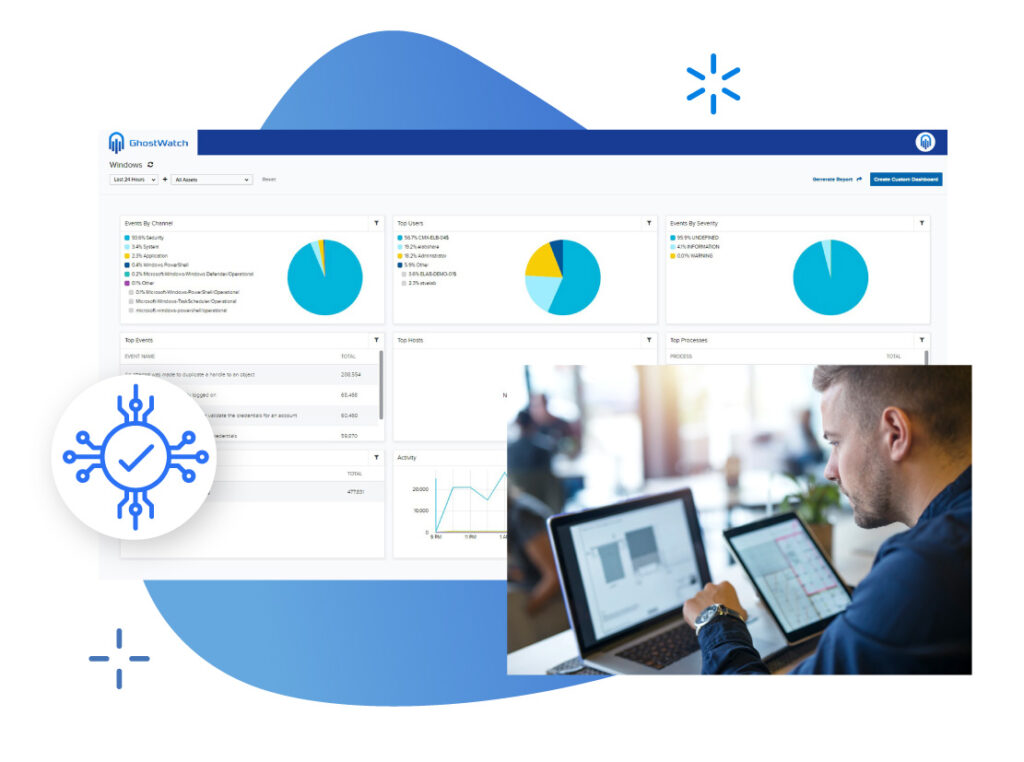 Vulnerability assessment and remediation
Continuously identify insecure configurations, unpatched, and unsupported software.
On-demand and scheduled scanning and reporting

Vulnerability scanning with actionable information

Context for security incident response
A simplified and more manageable network vulnerability scanner. GhostWatch stays ahead of attackers with advanced features.
Simple configuration and scheduling

Intuitive dashboard and reporting

Regular updates
Connected to a global community of threat researchers and security professionals
⠀⠀Daily threat indicators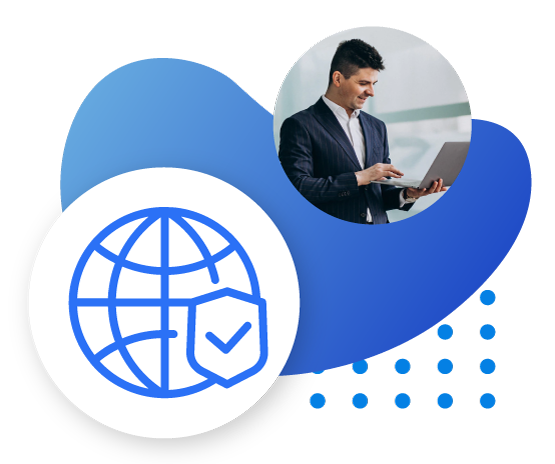 GhostWatch detects the latest global threats and prioritizes responses
Data Exfiltration Detection
Prevents leakage of sensitive and proprietary data
Real-Time Botnet Detection
Identify infection, compromise, and misuse of assets
Command-and-Control Traffic Identification
Identify compromised systems communicating with malicious hackers
IP, URL, and Domain Reputation Data
Prioritize response efforts by identifying known bad actors and infected sites
APT (Advanced Persistent Threat) Detection
Detect targeted attacks often missed by other defenses
Dynamic Incident Response and Investigation
Specific directives to respond to each alert
Complete network security monitoring and intrusion detection.
Asset discovery and inventory
To secure your network, first we need to know what to protect. GhostWatch will discover, inventory, and start monitoring your network in minutes.
Built-in asset discovery tools:
Identify what's on your network at any given time
Understand how your devices are configured
Correlate asset info with threat and vulnerability data
Accelerate investigations of impacted assets
Polymorphic malware and zero day exploits often bypass preventative security measures. Context is critical so GhostWatch dives deep and continuously gathers data to understand "normal" system and network activity.
Behavioral monitoring capabilities include:
Service and Infrastructure Monitoring
NetFlow Analysis
Network Protocol Analysis / Packet Capture
Continuous security monitoring
Evolving threats are increasing in volume and frequency. These threats reduce the efficacy of static monitoring. Continuous security monitoring fills this gap to provide a comprehensive view of your IT environment and security posture.
Asset management and inventory
Within minutes of installation, GhostWatch discovers IP-enabled devices on your network, installed software, configuration, potential vulnerabilities, and active threats.
GhostWatch performs advanced log analysis to provide actionable intelligence and threat alerts.
Multifunctional Reporting
GhostWatch facilitates compliance with many common regulatory compliance requirements including 
SOC, PCI DSS, ISO 27001, HIPAA, CMMC, NIST 800-171, CSA STAR, GDPR and HITRUST.